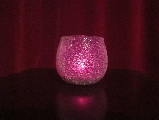 If you are interested in meditation and mindfulness, or would just like time to relax, you will probably appreciate one of our monthly tranquillity zones. These are enjoyed by a wide range of people, they are certainly not just for the Bahá'ís!
A tranquillity zone is a haven of peace, a chance to relax for a while in tranquil surroundings. It consists of relaxing music and inspiring quotations in a peaceful and meditative atmosphere. The readings are on themes such as love, healing, inner peace, mindfulness. The programme lasts for about 40 minutes. Please join us for refreshments afterwards.
We often use flowers and candles to help achieve a tranquil atmosphere.
Tranquillity Zones are usually held on the first Wednesday of the month at The Haven, 6 Welsh Road West, Southam, 7.30 for 7.45pm start.
We also have discussion evenings at the same address. These are mostly for those people who are interested in learning more about the Bahá'í Faith or who like to discuss spiritual matters in general.
Unfortunately we are unable to host meetings during the current crisis. However, we are having online devotional meetings via Zoom every Tuesday starting at 8pm. These consist of prayers and readings on a theme, plus a little music. Topics so far have included unity, contentment, healing and love. Please contact us if you would like to join in.