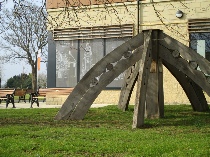 Welcome to the website of the Bahá'ís of Southam!
There has been a small group of Bahá'ís in Southam since 1983, part of a community of several million members of the Bahá'í Faith who are spread through all the countries in the world.
Bahá'ís believe that Bahá'u'lláh (whose name means "Glory of God") was the Promised One of all religions, who came to bring peace and justice to the world. Bahá'ís recognise the truth in all the major religions and work towards a society where every person is valued and can contribute towards making a better world.
You are warmly invited to join us in a tranquillity zone or discussion evening.
Bahá'í books, leaflets and games are published in Southam (printed by Clintplan) and distributed throughout this country and overseas. We also have a large variety of books to borrow or buy. Leaflets are available free of charge. Materials are also available for schools. Please ask.
For more information, or if you have any questions, please get in touch:
We are part of the worldwide Bahá'í community: