Throughout the world, Bahá'ís try to bring people together and help build positive communities. They are also involved in direct practical action. If Bahá'ís live in a part of the world where a school or clinic is needed, for example, they will work together to find a way of providing these. In wealthier countries, Bahá'ís will be involved in smaller community projects.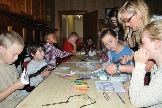 Bahá'ís run children's classes which teach about the virtues – e.g. how to be kind, generous, loving, honest, etc. Every child is welcome to join these. Most parents would be happy for their children to attend. Classes include stories, crafts and games and are great fun!

Bahá'ís also run junior youth groups for those aged from 11 to 15. This is an age when young people are asking questions about life and their place in the world. These junior youth groups are designed to help young people:
find their own strengths
develop new skills and abilities
take their part in building a better world
understand that how we behave makes us either happy or sad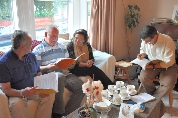 For older youth and adults there are study circles, starting with one about the purpose of life. Many people who are not Bahá'ís enjoy these courses, where everyone's opinion is valued.
If you are interested in any of the above, please: